Andrea Fornarola Hunsberger is the Founder and Director of Elements Barre Fit and is a celebrity fitness instructor from Manhattan. As a dancer and performer, she discovered her talent and passion for teaching and creating movement patterns at an early age. She graduated Magna Cum Laude from the State University of New York at Buffalo with a BFA in Dance and performed across the US and New York prior to launching her fitness career.
Andrea found her start in the fitness industry after taking a friend's practice class and immediately fell in love with the Lotte Berk Method and barre classes. She began her fitness career in 2006 as a founding instructor for Physique 57. She went on to continue to teach fitness and began to pivot her focus to teaching fitness classes full-time.
Andrea has studied multiple fitness modalities and gained many fitness certifications, including ACE, AFAA, Schwinn, and Real Ryder International. Through this education, she focused on learning how different companies trained their instructors and the methods they used to create their workforce.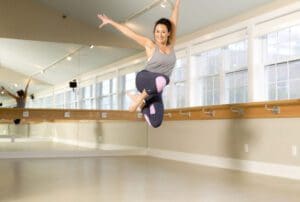 In 2010, Andrea Fornarola authored the fitness manual that she still uses today and which serves as the backbone of all of Element's curriculum. She has since created a series of innovative fitness and wellness classes and is reinventing the fitness industry with her unique high-performance, and specialized Barre and Dance fitness training methods, which she offers exclusively at Elements.
Andrea has been instructing sold out classes for Elements since she launched Elements East Hampton in 2014. In 2016 she launched Elements' corporate wellness program, where she strives to help clients create a work/life integration that extends beyond the office. In February 2020, Andrea signed the lease for a New York studio, which is set to open Fall 2022 on the Upper East Side. During the Covid-19 Pandemic, Andrea shifted Elements' focus to all online content, growing the Elements On Demand platform to what it is today.
With the focus to create an all-encompassing wellness community both in person, and online, Andrea continues to lead the Elements team in meeting our clients in every element of their daily lives.